Recruitments

Druid:
Balance
Hunter:
Open
Mage:
Open

Paladin:
Closed

Priest:
Shadow

Rogue:
Closed

Shaman:
Elemental

Warlock:
Open

Warrior:
Closed

Death Knight:
Closed

Monk:
Closed
- Apply Here-

Welcome
Welcome to our site, may you enjoy your stay.


We are a semi-hardcore raiding guild. Our goal is to go through all the content in World of Warcraft.

If you can't stand the terrible titles...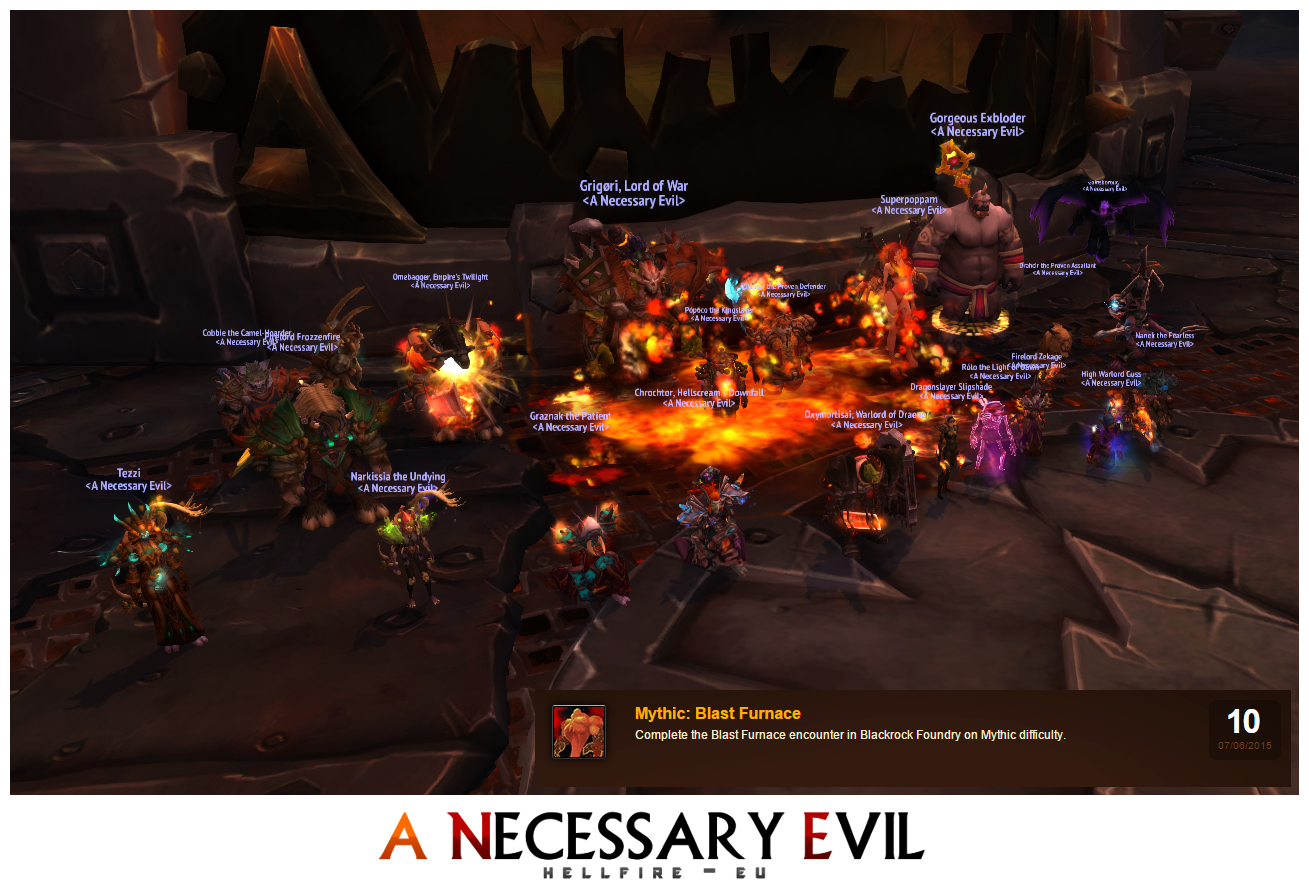 We've now killed this three times. It just proves that I am terrible at doing little things when I need to.

With 6.2 next week, I figured it was worth posting before then.

ANE signing out of patch 6.1 with 16/17 Mythic.

We're always looking for skilled players to join our roster, please head to the forums or contact an officer in game for more information!

Two more down, Two more to go.


We also went out and killed Koragg, because we're awesome like that.

Next up, Blast Furnace!

Long overdue killshot update.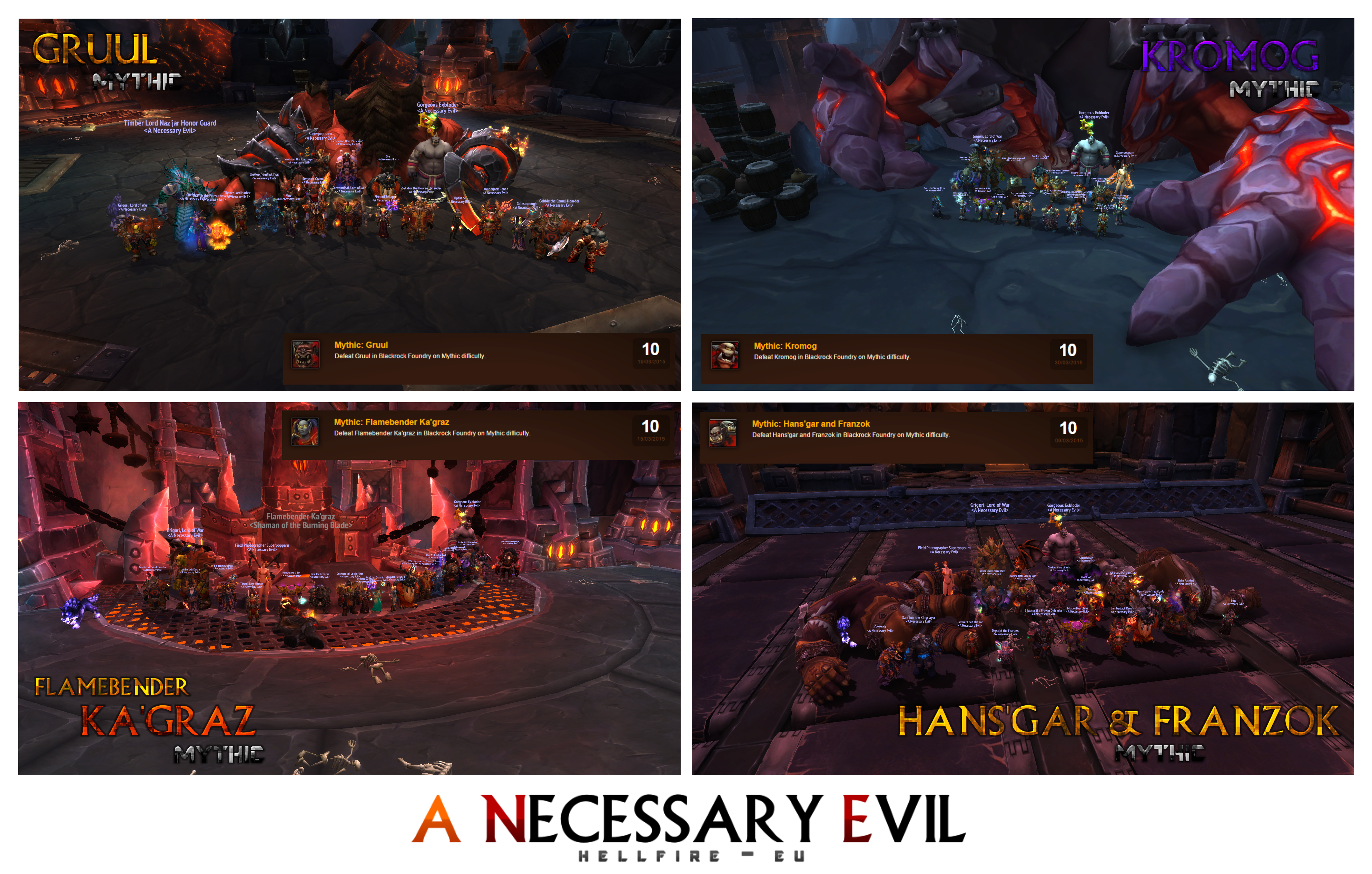 Click the thumbnail to view the killshots of our most recent 4 kills.

For the feint of heart or those with slow connections, this is a large image.

Oregorger shall gorge no more!

Butcher down!
After leaving Butcher with around 1% hp last week, we returned, modified positions slightly and killed him this week. That would be the end of the progress before Blackrock Foundry releases, perhaps we have time for Ko'ragh next week after we enjoy heroic BRF.

Highmaul progress
After a christmas break and some rotation of the roster, I have found time to update this page again. We just started Mythic Highmaul before the Christmas break and killed Kargath. We returned and killed Twin Ogron soon after, but Brackenspore would turn out to be more difficult. After killing him, though, Tectus fell over shortly after. Hopefully I can return with news about more kills soon.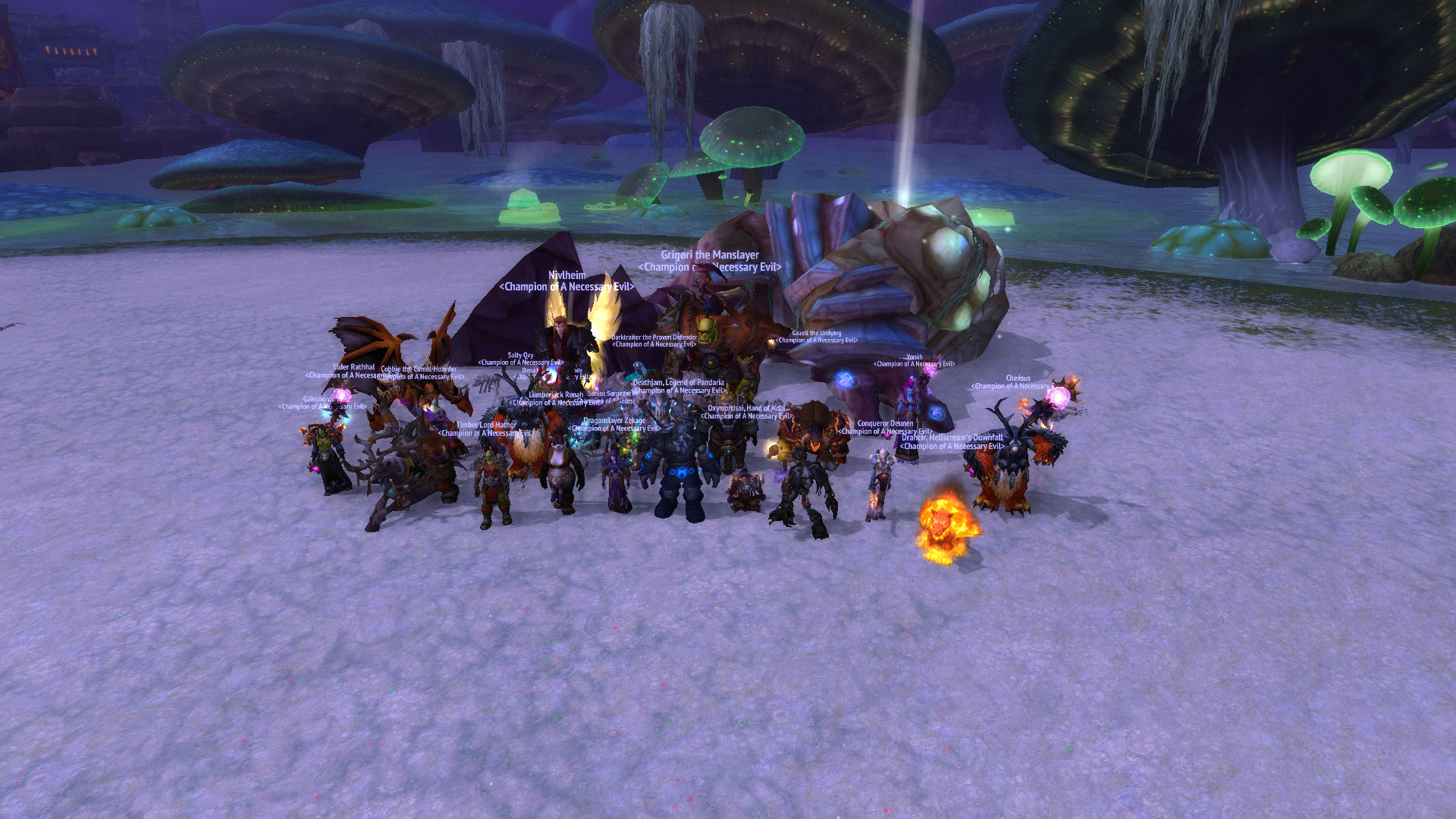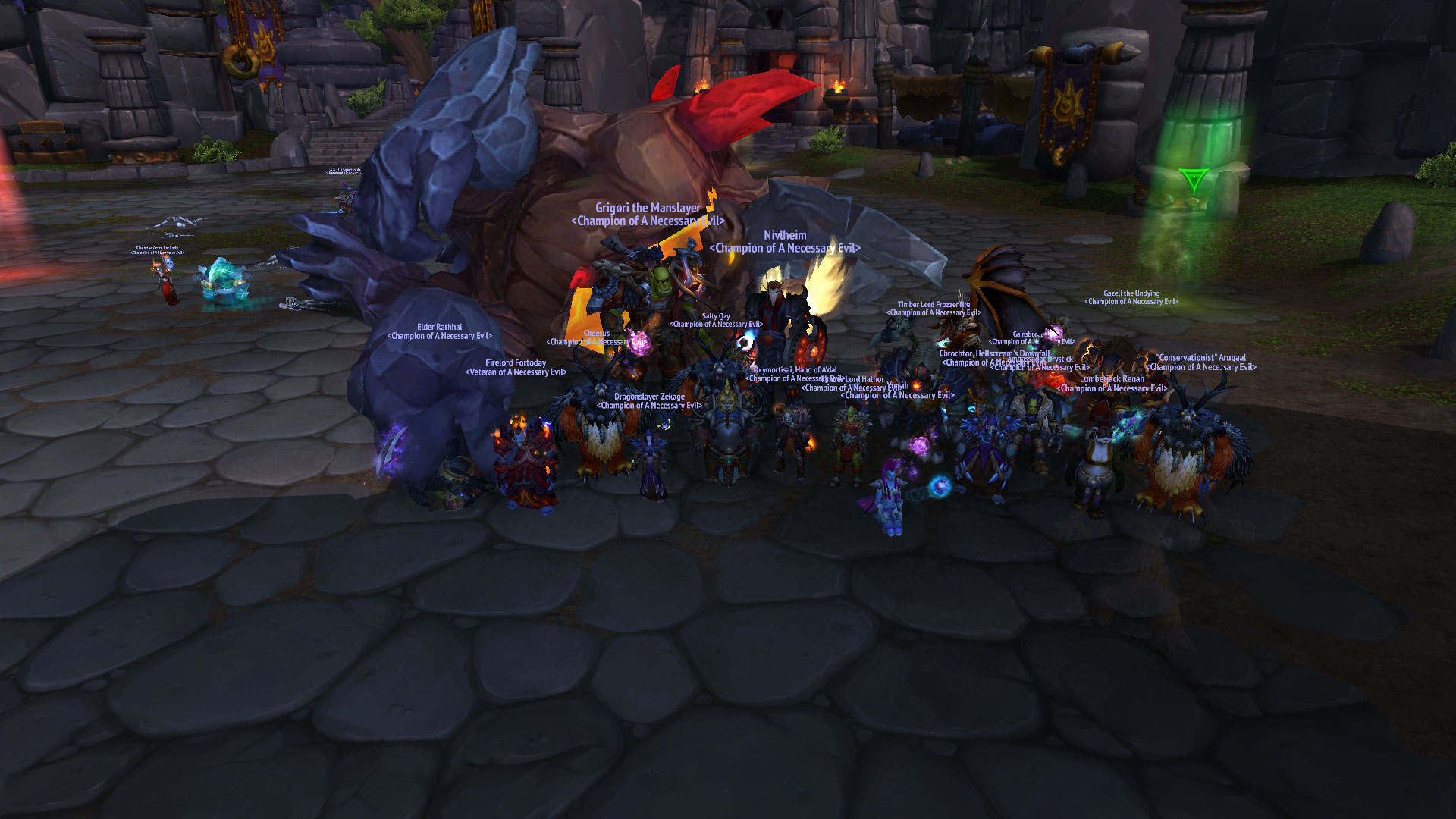 Good bye, MoP!
We have had a good time in Mists of Pandaria. To commemorate our time in Pandaria, we decided to get together as a guild for the last time on Pandaran soil! We are now preparing for and looking forward to new experiences in Warlords of Draenor!

Since this is the land of the pandas, we made all our pandas sit in front!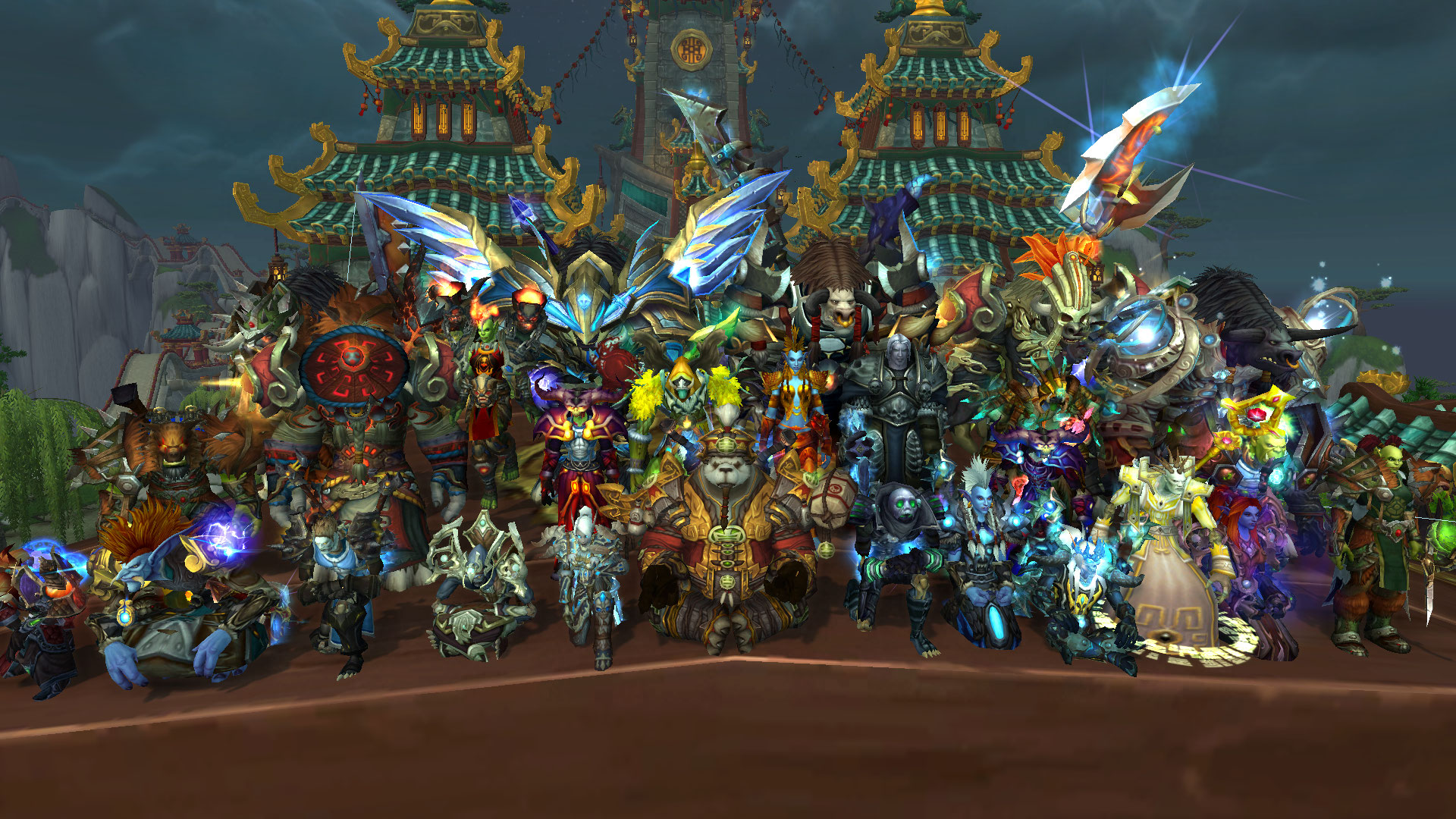 Siege of Orgrimmar cleared

After a large amount of planning, changing of strategies and hard work, we are proud to announce that we have cleared Siege of Orgrimmar, and are ready to face the next expansion! We almost had him at the end of last raiding week, and chose to extend the raid into the new week. That yielded results!

A big congratulations to everyone who participated in the kill, but also to everyone who contributed to learning the fight, suggesting improvements to our strategy and cheered us on when we did not have room for everyone inside the raid.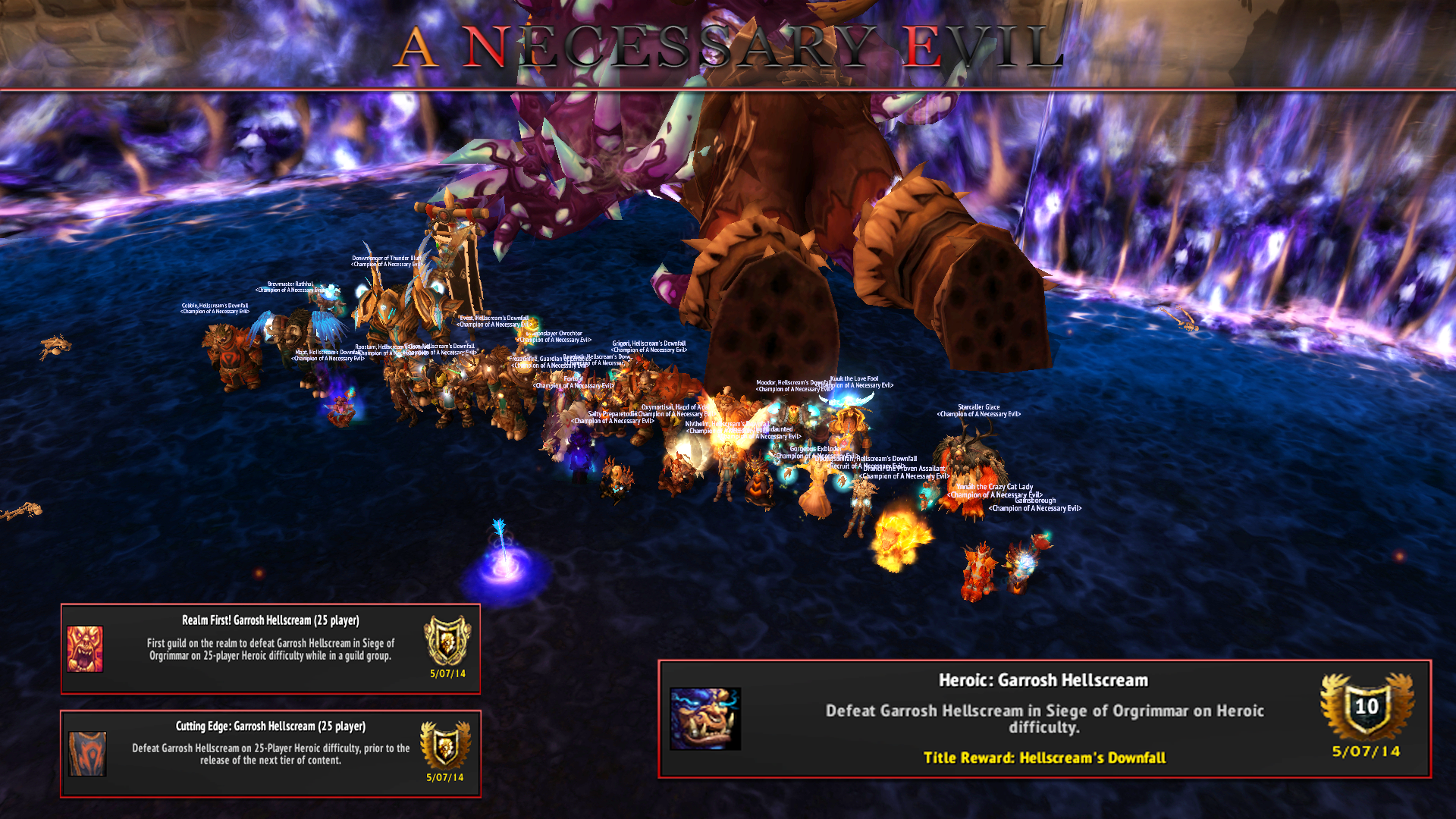 Klaxxi Paragons

After Blackfuse, we expected Paragons to be an easier boss. We did not spend as many wipes on Klaxxi, and the progress was more visible. Despite that, we had our fair share of deaths to Rapid Fire, Aim and Caustic Amber. This was a very good and varied encounter. We are now looking forward to killing Garrosh!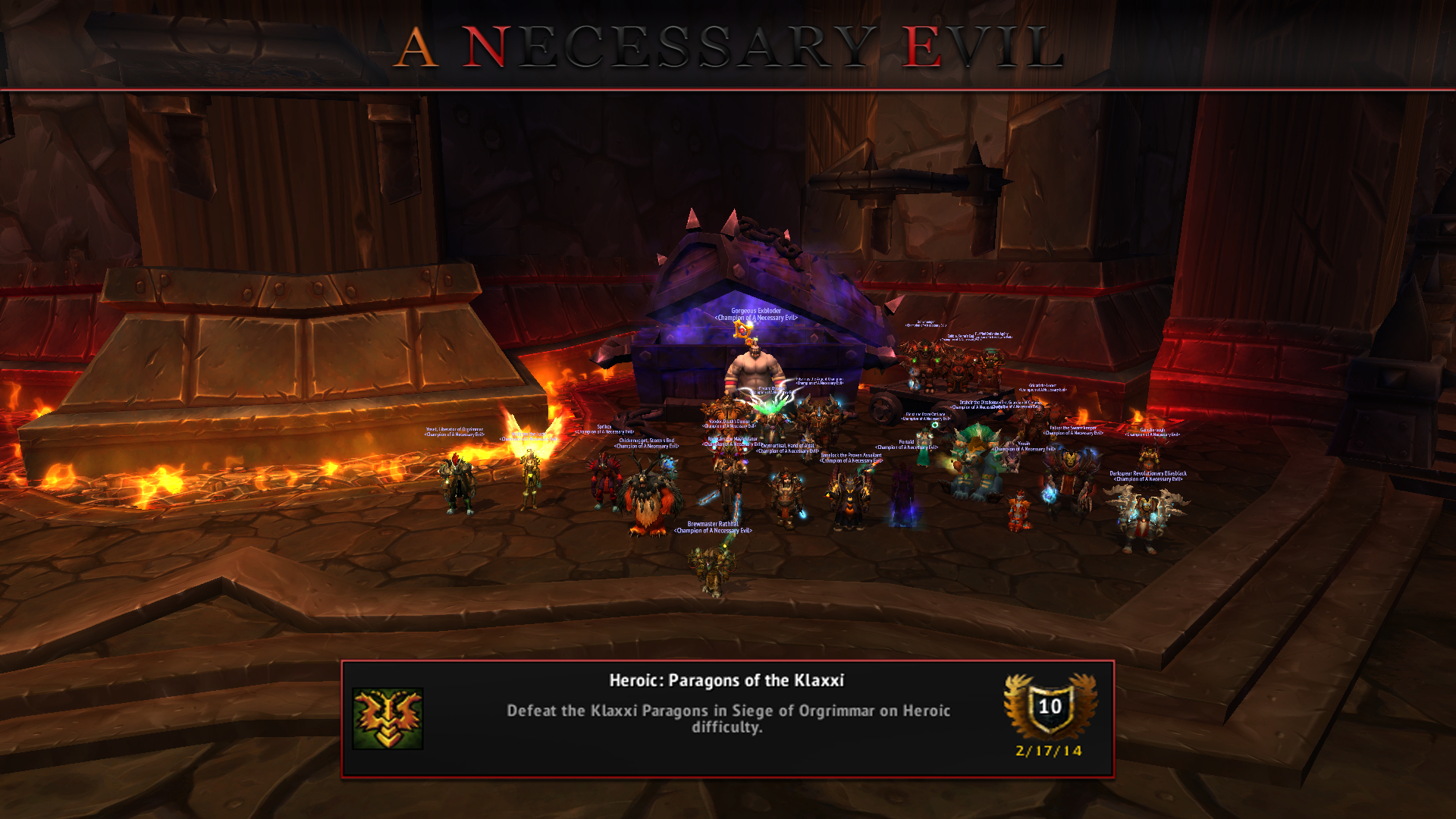 Blackfuse finally down!

After 364 wipes, two months since we killed Thok, countless disconnects and latency problems and a few weeks of Christmas vacation, Blackfuse bites the dust. It has been a long process involving several different tactics. We finally ended up with the tactic we began with, killing missile turrets on the assembly line and primarily killing mines on the platform. The kill itself ended with one player standing over Blackfuse's corpse, proving to us that hunters are useful!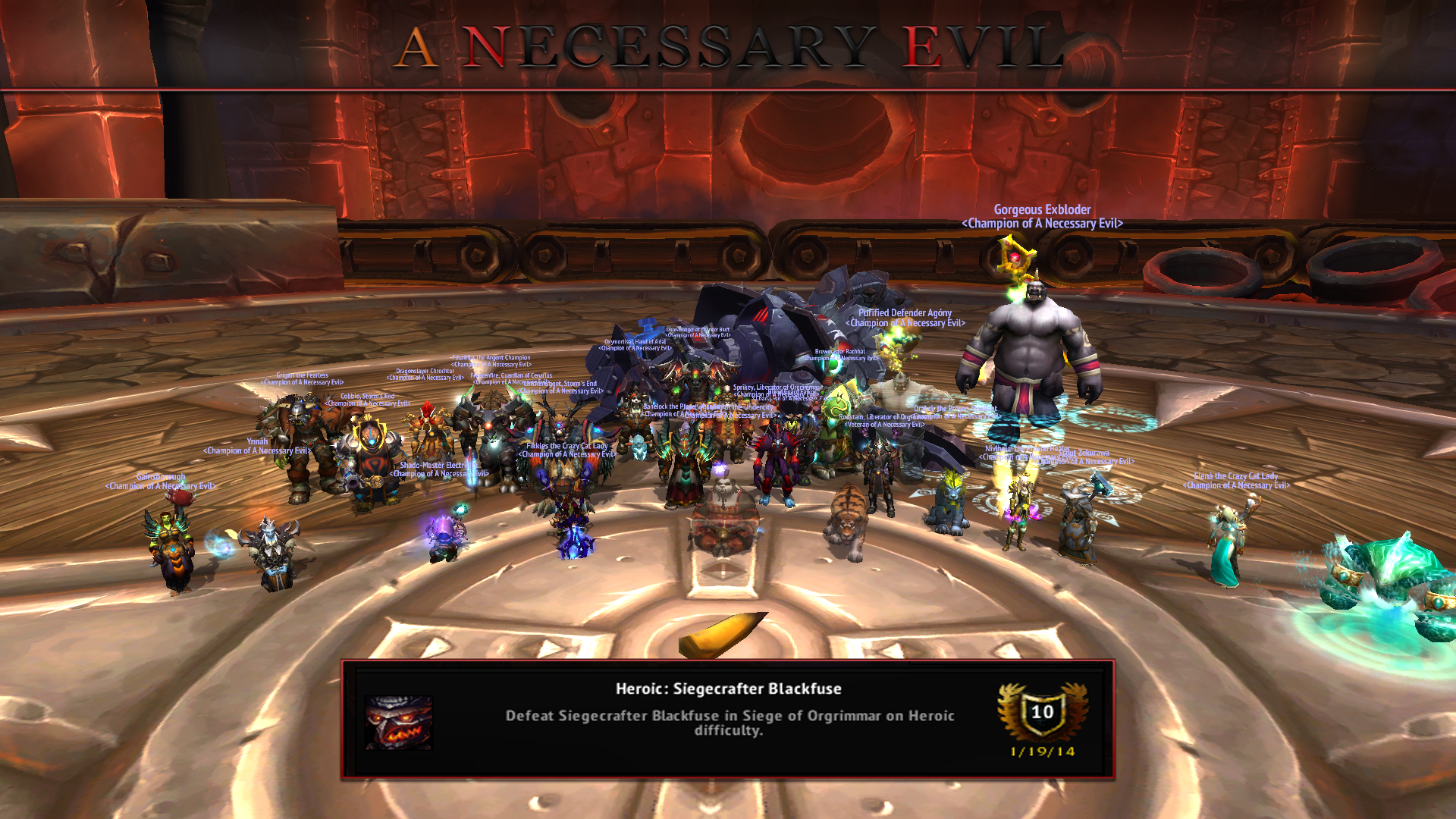 Spoils and Thok

After optimizing opening of crates, positions and killing of sparks, Spoils turned out simply to be a DPS check. We were therefore able to start Thok last week. We did not get him down, but we did start distributing cooldowns and extend the second phase until all our cooldowns were back up for the next phase one. This week we had the strategy planned out, we just needed to learn to execute it properly. We found an extra cooldown and a stun rotation for the bats got us through the second phase one.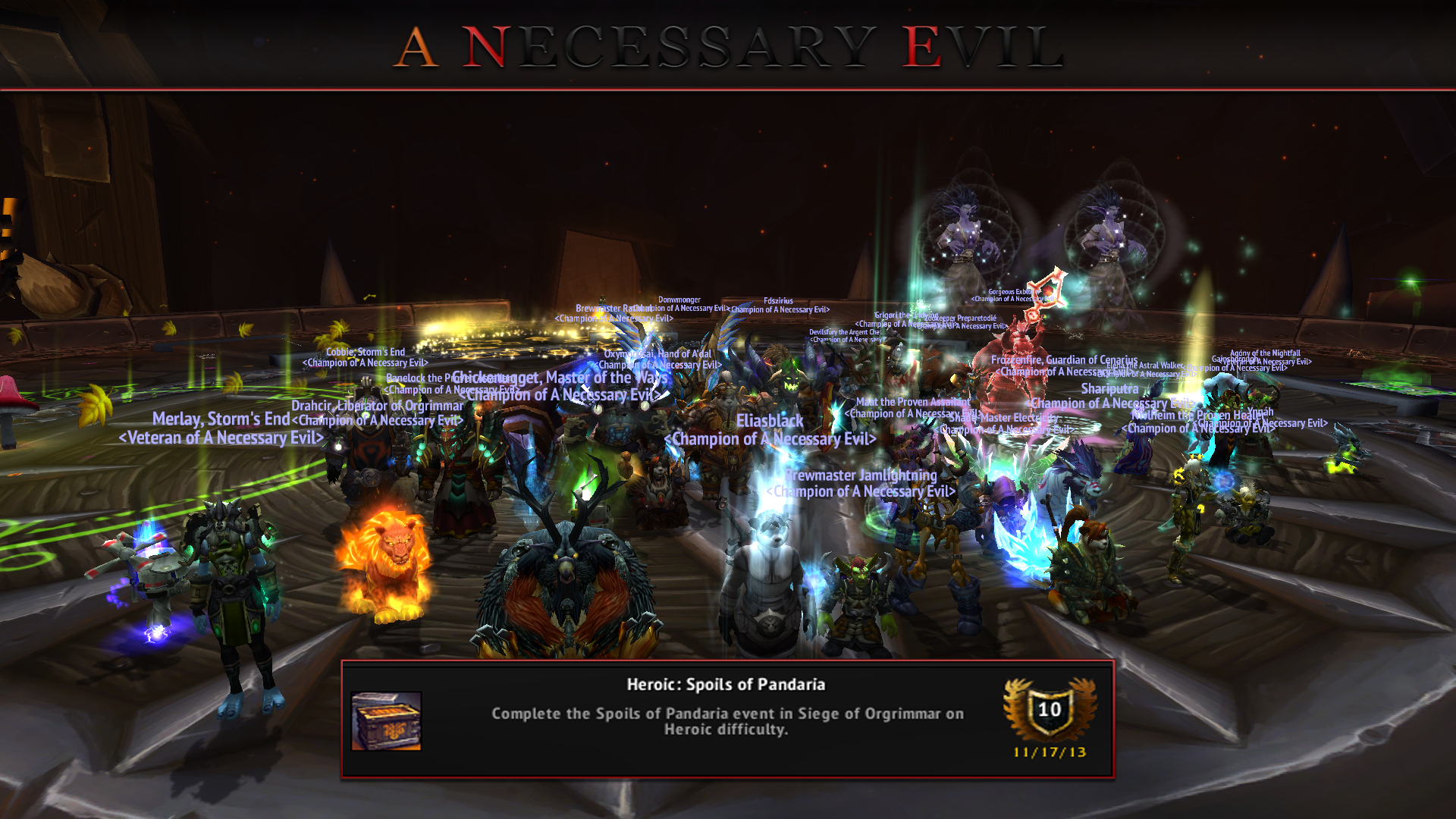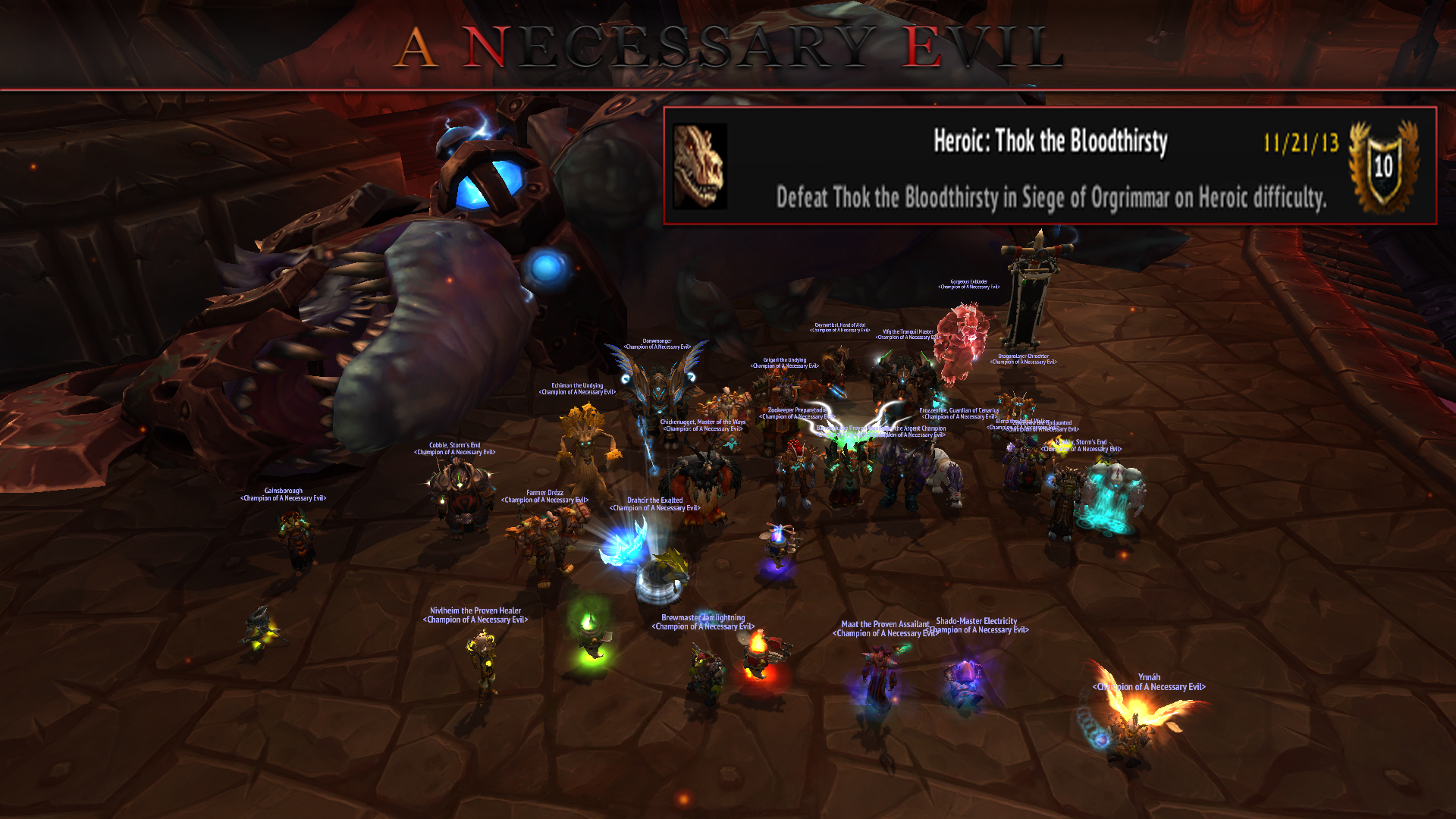 Login
Not a member yet?
Click here
to register.
Forgotten your password?
Request a new one
here
.

Mythic
Hellfire Citadel
Hellfire Assault
Iron Reaver
Kormrok
Hellfire High Council
Killrogg Deadeye
Gorefiend
Socrethar the Eternal
Shadow-Lord Iskar
Fel Lord Zakuun
Xhul'horac
Tyrant Velhari
Mannoroth
Archimonde

Shoutbox
You must login to post a message.